Nonesuch Silver Prints Archive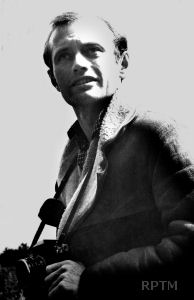 Nonesuch Silver Prints archive contains the earliest photographs taken by Tony and Marion Morrison. Uniquely, all the pictures were taken before 1970 and many are much older so are unrepeatable. All are black and white shot on silver based film processed by hand.
When Tony met Marion in Bolivia in 1963 he was making films for BBC TV and had been taking photographs for ten years. His work had been published and he had gained awards. But in the 1960s black and white photography was almost an art of the past and colour was in demand for magazines, books and newspaper colour supplements. British television changed from black and white to colour.
1962 Right -Tony back in England after an eight month journey to the Middle East. Picture taken on a Microflex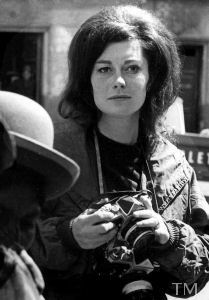 From 1963
After they met Tony and Marion's lives were devoted to making films for television and writing books so black and white photography became something of a luxury - time simply did not allow for getting the best lighting or adjusting the negative film to match a subject - let alone for them to be concerned with the best chemistry for processing.
' We kept taking black and white until 1971 and afterwards we used it for special reasons such as some archaeological subjects. For us it was mostly shooting in colour and that became simpler with the introduction of automatic metering - that is the adjustment of the light to match film for, say, a moving subject.
Then came rapid wind-on picture taking with bursts of five shots a second - 'useful perhaps for nature pictures or sports but at the same time affecting the way most photographers worked. The rapid-wind led to hundreds of pictures to be edited to select the best - and of course with digital it is even faster and produces more images'.
1968 Left - Marion in La Paz, Bolivia - using Nikon F cameras and lenses. Picture on a Nikon F
Just one shot - Tony remembers
'On my first professional job in the year before I met Marion I met a photographer working for one of the great magazines of the time and he had just taken a picture in Petra, the ancient rock city in Jordan. He had set up a picture for a sunrise over a tomb and taken just one shot.... Just one shot.
Looking at our earliest negatives I can't say there is just one shot of each subject but except on rare occasions there are only one or two. Our Galleries are of those pictures we like from our very modest collection of negatives. We were always careful with our use of film.
The mid -1990s and a return to Black and White
'In the mid-1990s I returned to black and white with several special journeys to Bolivia but the digital era was on the doorstep and I shelved my idea of a book - maybe we will add another gallery sometime when the pictures have matured.'
More about Tony and Marion and the stories they have covered is on Nonesuch Expeditions Colour is in the South American Pictures section.
Tony's earliest thoughts and efforts at silver printing are on this site in The Art of Silver .